10 x Damascus RANDOM Pattern Billet (Pre-order), Stainless Steel 58 HRC, 325 x 50 x 3 mm
Width:

1.00 (cm)

Height:

5.00 (cm)

Depth:

32.50 (cm)

Gift wrapping:

Options available

Shipping:

Calculated at Checkout
Description
Stainless Steel Damascus Billet, Hardened and Tempered, 3 x 50 x 325 mm (RANDOM PATTERN)

***10 bars wholesale deal, up to 3 weeks for delivery if we have sold out at time of ordering (this product does not track accurate stock levels) *****
Damascus or "forge welded" steel consists of different types of steel heated to welding temperatures and mashed together until they form one steel. The billet is then drawn out, cut or folded. The process is repeated again and again, every time doubling the number of layers.
To get a consistent, strong edge these pieces consist of softer stainless layers over a hard single steel centre edge piece. Basically forge welding the damascus to a Chinese version of VG10. The edge steel etches black and is about 0.7 mm thick.
The billet is ready to grind into a blade and is slightly bigger than 3 mm x 50 mm x 325 mm in size. This is the largest size we carry, for full-size chef knifes or other large blades.
The Damascus billet is heat treated completely, hardened and tempered to 58 HRC. This is a good hardness for outdoor knives as well as general duty kitchen knives.
This is the Random pattern version and comes flat ground and pre-etched so the pattern is clearly visible already.
There are about 60 layers in this damascus billet.
Note this is hardened steel and will be very difficult to work with hand tools.
Grind the billet to your blade design

Grind in bevels

Hand sand the blade

Etch in ferric chloride or etchant solution from an electronics store

Wash thoroughly with water to neutralise the acid
NOTE: Working with acids can be dangerous. Seek professional advice before undertaking any work that can involve risk of injury.
Example of a great chef knife made from this damascus by our favourite stamp maker Dar Lu (check out his products like custom knife maker stamps, leatherworking stamps, metal etching machine, etc at https://www.facebook.com/CustomMarkingSystem/ )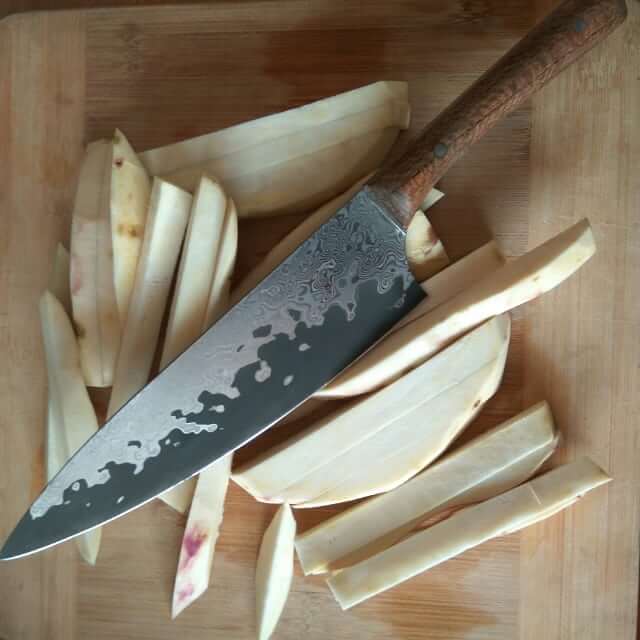 View All
Close