Stainless Steel LADDER Damascus Billet, 58 HRC, 220 x 30 x 3 mm
Gift wrapping:

Options available

Shipping:

Calculated at Checkout
Description
Stainless Steel Damascus Billet, Hardened and Tempered, 3 x 30 x 220 mm (LADDER PATTERN)

Damascus or "forge welded" steel consists of different types of steel heated to welding temperatures and mashed together until they form one steel. The billet is then drawn out, cut or folded. The process is repeated again and again, every time doubling the number of layers.
To get a consistent, strong edge these pieces consist of softer stainless layers over a hard single steel centre edge piece. Basically forge welding the damascus to a Chinese equivalent of VG10. The billet is ready to grind into a blade and is 3 mm x 30 mm x 220 mm in size.
The Damascus billet is heat treated completely, hardened and tempered to 56-58 HRC. This is a good hardness for outdoor knives as well as general duty kitchen knives.
There are 2 versions, ladder pattern and "fireball" (random) pattern. This is the Ladder pattern version.
Note this is hardened steel and will be very difficult to work with hand tools.
Grind the billet to your blade design
Grind in bevels
Hand sand the blade
Etch in ferric chloride or etchant solution from an electronics store
Wash thoroughly with water to neutralise the acid
NOTE: Working with acids can be dangerous. Seek professional advice before undertaking any work that can involve risk of injury.
Showing the ladder patterned billets;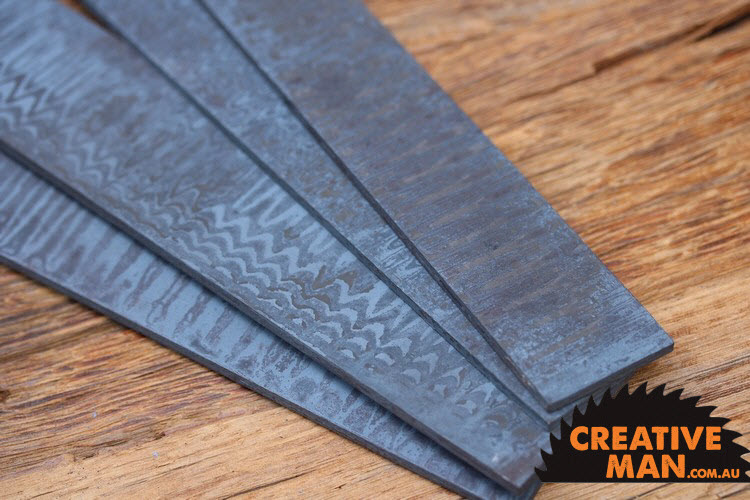 View All
Close
1 Review
Stainless steel Ladder Damascus billet

Great steel that not only looks great, it works great too and holds a lovely edge.
View All
Close